Overview of JADAC, Japan Data Communications Association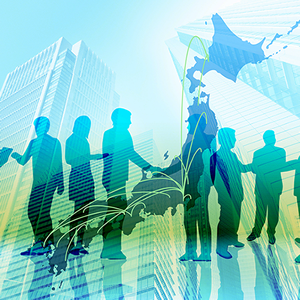 We are engaged in multiple activities which enforce the healthy development of Data Communications in Japan.
The telecommunications world is developing day by day after the invention of its technologies and services in the middle of 19th century; the speed of evolution is even accelerating with the birth of the Internet.
In such societies, maintenance and improvement of the telecommunications network are one of the most critical agendas, not only for the telecommunications carriers but also for the economy and the society of Japan.
Japan Data Communications Association was established in Dec. 1973 by several user associations, computer vendors and telecommunications carriers in Japan for the sake of healthy development of Data Communications and the contribution to our economy and society as the result of the activities.
We have been working as the executing entity for the two national examinations, "Qualification Examination for Chief Telecommunications Engineers" and "Qualification Examination for Installation Technicians" since 1985. After that our activities have been in the two main fields: "Securities of Information" and "Human Development in the Telecommunications Industries."



---
History
| M | Y | Highlights |
| --- | --- | --- |
| Dec | 1973 | Established in Tokyo. |
| Jan | 1983 | Started the activities as the agency for registration/inspectional operations of telecommunications network gears. |
| Apr | 1985 | Started the activities of the executive office for "Qualification Examination for Chief Telecommunications Engineers" and "Qualification Examination for Installation Technicians." |
| Feb | 1987 | Started the evaluating and registering activities for the entities met the security/reliability criteria by The Ministry of Posts and Telecommunications. |
| Mar | 1998 | : Finished the evaluation and registering of the entities which met the security/reliability criteria by The Ministry of Posts and Telecommunications. Apr 1998: Established the Center for Protection and Registration of Personal Communication. |
| Apr | 1998 | Established the Center for Protection and Registration of Personal Communication. |
| Jun | 1998 | Started the activities of the Center for Virus-Consulting. |
| Jul | 2000 | Started the activities of the Center for Certification of Electronic Signature. |
| Jul | 2002 | Started the activities of the Anti-Spam Consulting Center. |
| Jan | 2005 | Consolidate Telecom-ISAC Japan. |
| Feb | 2005 | Started the activities of the Center for Certification of Time-Business. |
| Apr | 2005 | Started the activities for an "accredited personal information protection organization" defined under the Japanese Law, The Act on the Protection of Personal Information (Personal Information-ICT Center). |
| Aug | 2005 | Executed Legal reform of Installation Technician's License and examination. |
| Oct | 2005 | Finished the activities of the Center for Protection and Registration of Personal Communication. |
| Dec | 2005 | Transferred the activities of the Center for Virus-Consulting to "Security Promotion Realizing sEcurity meAsures Disribution'iSPREAD)." |
| Dec | 2005 | Established the certificate system of "Telecommunications Engineer." |
| Feb | 2006 | Started network-based e-learning program "eLPIT" for cultivating. |
| May | 2006 | Established the Time Business Promotion Department. |
| Jun | 2006 | Started the activities of Certified Assessment entity for PrivacyMark System established and operated by JIPDEC. |
| Feb | 2007 | Started multiple curriculums on eLPIT. |
| Oct | 2007 | Started the operation of Internet registration system on Qualification Examination for Installation Technicians with the payment system at convenience stores. |
| Oct | 2008 | Created Personal Information Protection Management System constructed by JIPDEC. |
| Jun | 2009 | Created entity logo. |
| Apr | 2012 | Changed the corporate system from "Incorporated Associations" to "General Incorporated Associations" because of a revision of Japanese law. |
| Mar | 2015 | Started the activities of lecture series for "Chief Telecommunications Engineers". |
| Jul | 2016 | Transferred the activities of Telecom-ISAC to ICT-ISAC Japan. |



---
Corporate Structure